With all due respect to other cheesemaking nations, it seems relatively safe to suggest that the best fromages in France are, by extension, the best in the world. But French cheese is also a world unto itself. Each production region is bound by the specifics of its own "terroir", best visualised as a perfect triangle of essential factors: environment, livestock, and human agency.
The climate, soil, and grass, the breeding of the cattle, and the diligence of the farmer all interact to dictate the quality of the milk. "You can't turn bad milk into good cheese," says master fromager, François Robin. "Just like you can't turn a bad French car into a Ferrari."
And while the cheesemaking process itself is theoretically "easy", it can take a lifetime to master, he adds, or at least one generation to produce a good, aged French cheese. Standards are maintained by the rigid parameters of Europe's PDO certification system (Protected Designation of Origin), which effectively ringfences local artisanal traditions, rather than waving the flag for French cheeses in general.
Nowhere are these standards higher, nor traditions stronger, than in the regions of Franche-Comté and Auvergne-Rhône-Alpes. François, himself a past winner of the country's most prestigious contest for craftsmen, the Meilleur Ouvrier de France, served as our travel guide to those terroirs and three very special signature cheeses…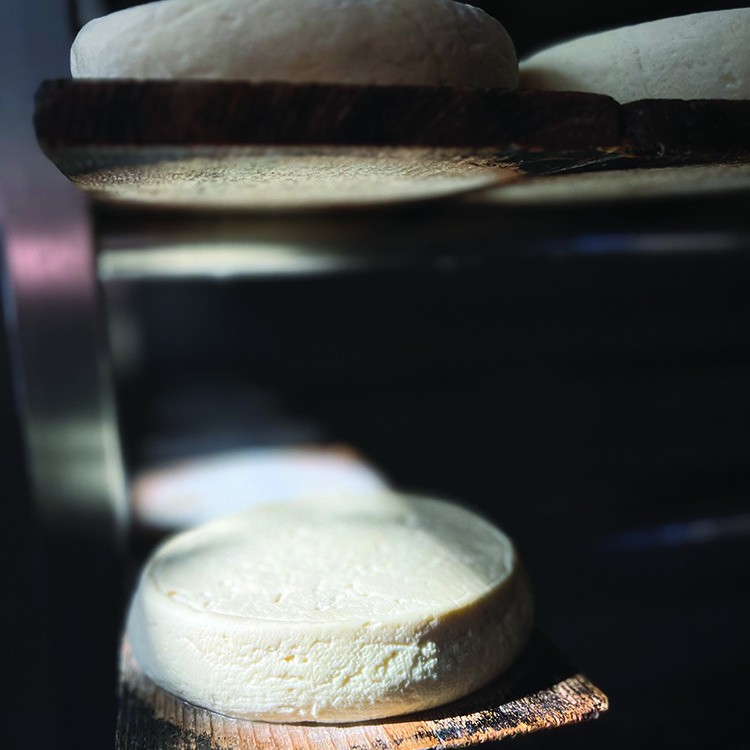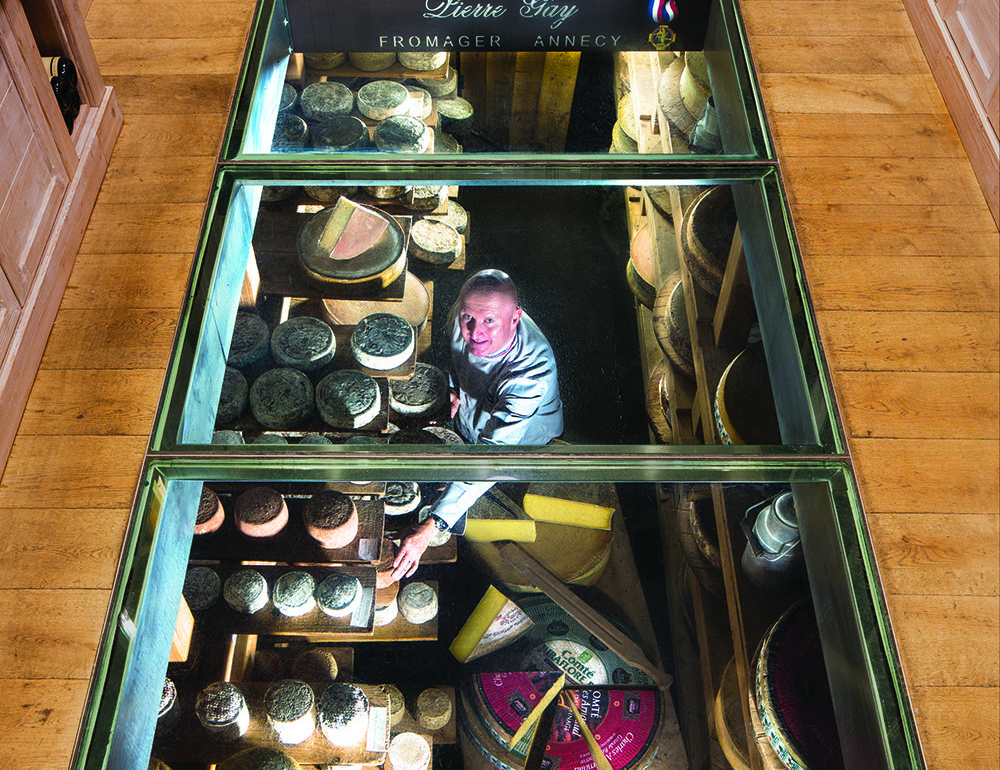 Pierre Gay in his cheese cave
COMTÉ
Napoleon had Fort des Rousses built high in France's Jura mountains, a monumental stronghold for thousands of soldiers and horses that since been repurposed as what François calls "a cathedral of cheese". Stationed here as part of his national service in the 1990s, Jean-Charles Arnaud – head of the Juraflore dairy empire – recognised the cheesemaking potential of the structure's dark, dank stone vaults and tunnels. With temperature, humidity and C02 levels kept constant as if in a cave, these gunpowder-stained chambers make the perfect storage environment for the fort's present battery: some 200,000 wheels of Comté cheese.
Each cheese is about the size of a car tyre, with rind that gleams like buried gold under Arnaud's innovative lighting effects. Deep underground in the tasting room, different vintages yield a range of flavours and textures, from fruity, nutty younger cheeses to the sweet, spicy density of variations aged up to 36 months, which develop crunchy, glinting crystals through extended maturation of the white amino acids within.
"I feel quite emotional here," says François, who considers Comté the best PDO in France for the particularly stringent rules applied at every stage of production, from specific cow breeds to copper-only vats. At home he likes to mix his comté with black garlic for a kind of "umami" effect.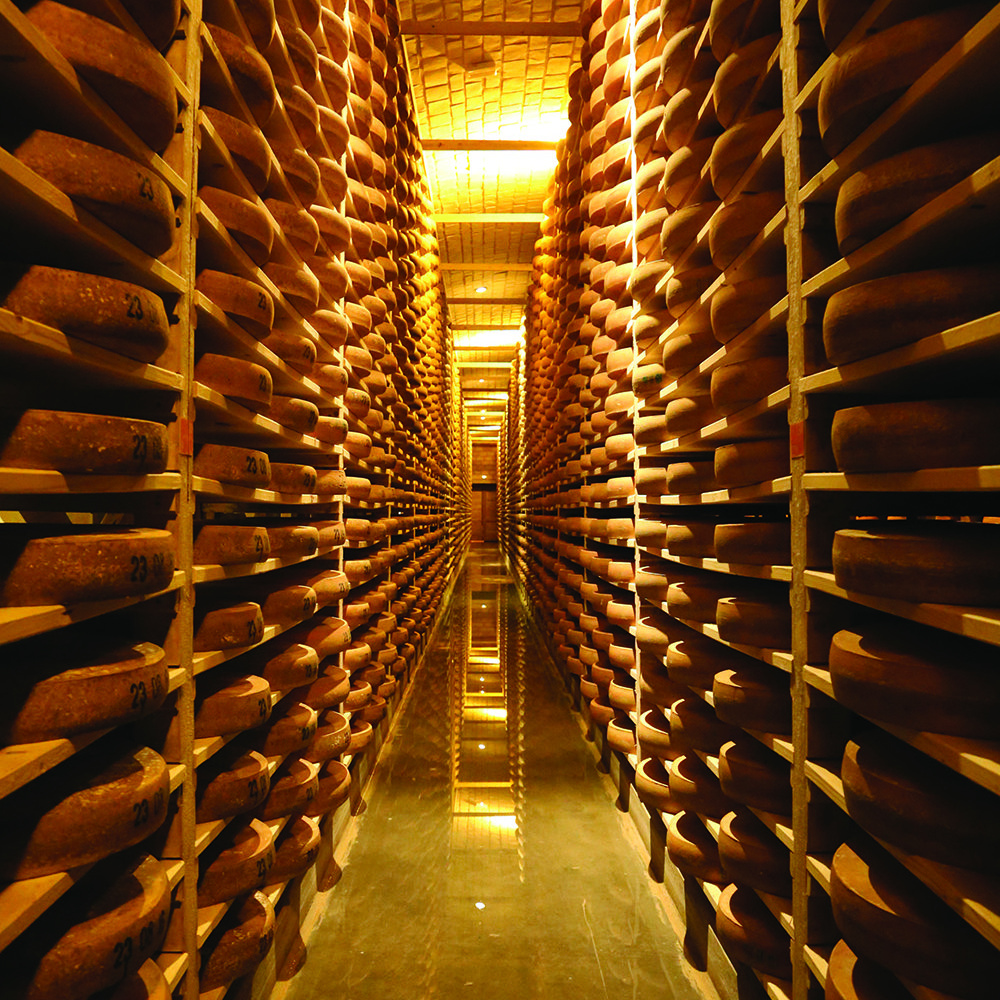 Making Beaufort is still very much a hands-on process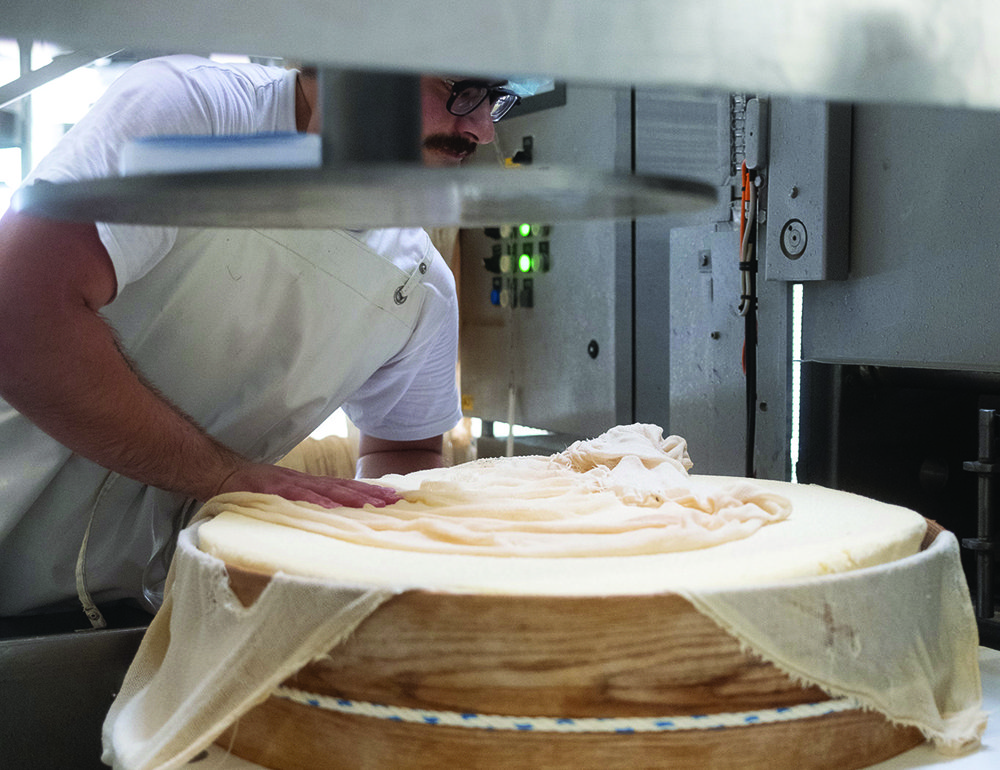 Wheels and wheels of Comté inside Fort des Rousses
REBLOCHON
Out across the glowing green pastures of Le Bouchet-Mont-Charvin stands an archetypal farmhouse where Mathilde and Fabrice Ruphy make small batches of classic, organic, authentic Reblochon cheese. Young as they may be, the couple have acquired the mastery of veterans, producing each wheel by means of labour-intensive double daily milkings from a mixed 25-strong herd of Montbéliarde, Tarine and Abondance cows (whose distinctive eye markings look like chic brown sunglasses).
Local legend around this process dates back to the Middle Ages, when farmers were required to pay with dairy produce in lieu of taxes, but waited until the inspectors had been and gone before taking a cheeky second milking, which yielded milk with the highest fat content. The resulting recipe makes for a creamy, runny cheese often melted over potatoes, onions and bacon in the mighty gooey mountain dish tartiflette. And small-scale as their operation is at La Ferme des Pezières, the Ruphy family make as good a Reblochon as anyone, with mild fruity notes and a deeply nutty aftertaste.
"You respect the work," says François.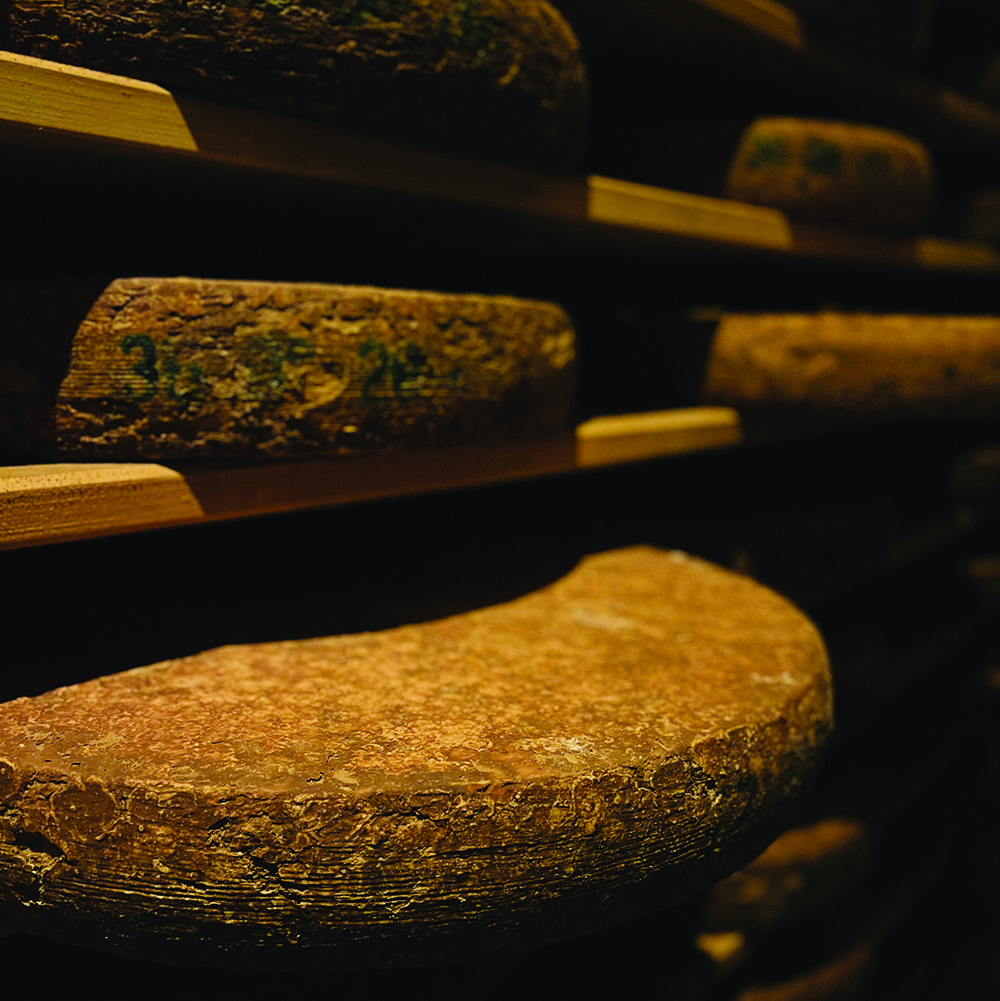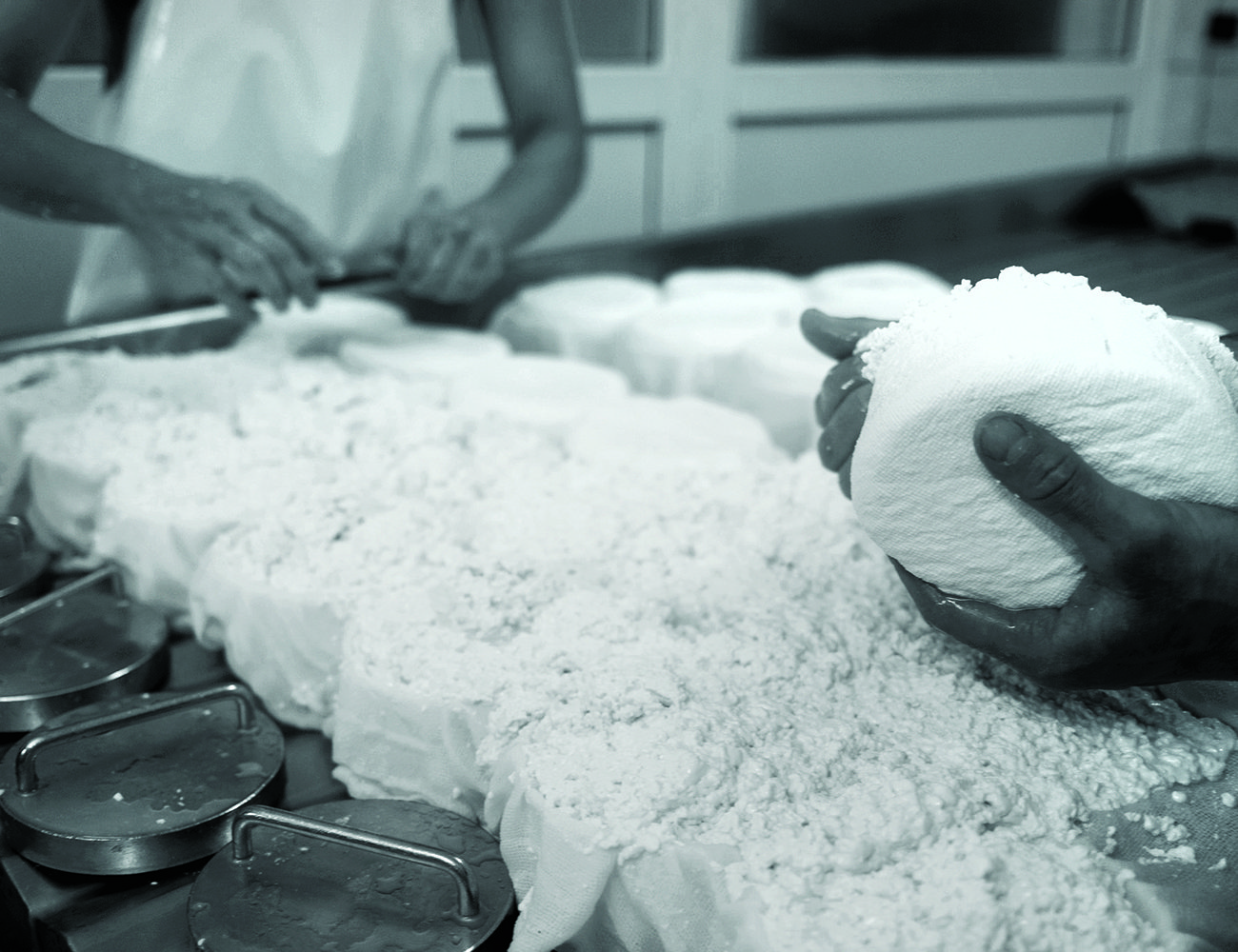 BEAUFORT
The shape of this famous pressed cheese from Savoie stands out before you even get close enough to smell or taste it. Traditionally made high in the mountains during the summer, explains François, it was then strapped to the backs of donkeys for transport to cellars in the valley, and a now-distinctive concave heel configuration made for optimal stability en route. Today, the PDO requirements of Beaufort chalet d'alpage mean that a specific variety is produced twice a day from the milk of a single herd at a minimum elevation of 1,500 metres.
"The cows have wonderful grass at the top of the mountain," says François, "and the flowers they eat give the cheese its [generally yellow] colour." Winter Beaufort is also possible, though trickier in snowy conditions, and the result tends to be lighter and milder. Production means a very long day for the cheesemaker, from the first milking at 4am to the final flip of the wheel and change of the cloth at around 10pm.
"What an incredible job," says François.
François Robin
Fromageries to note
You'll find Fromagerie Gay in the vielle ville of Annecy – a charming lakeside town with a medieval chateau, colourful houses, churches, curio shops and cafés that line cobbled streets. Pierre Gay, the owner, cheesemonger, and affineur is a remarkable character who any discerning cheese lover should meet. Like François, he holds the title of Meilleur Ouvrier de France and his dedication to his craft is truly impressive.
And his aging cellar, concealed beneath a glass floor in his shop, is certainly a talking point! If Pierre is not around, his wife Sophie or protégée Paul are both there to help you choose or teach you about an assortment of cheese.
In foodie capital Lyon, Charlotte Petitjean is the driving force behind Fromagerie Saint Jean, a charming cheese shop and café. Located in a cozy corner, it's a haven for cheese enthusiasts. Whether you're seeking cheese for takeaway or a delightful platter to savor on their terrace, this place has you covered. Beyond just a cheese vendor, they offer immersive experiences like masterclasses, too.