The Bread Exam campaign has made waves worldwide. Why was it important for you to take part in it?
Danielle: The agency behind the campaign, McCann Paris, whose client was Spinneys Lebanon, contacted me to work on this campaign because there was a need for it in the country. Breast cancer is one of the most common cancers in the world yet remains taboo in many societies. The goal for every person involved was to save lives and raise awareness on the importance of self-checking. Ironically enough, it all happened during the pandemic, when everyone was at home baking bread.
Mirna: Despite the countless awareness campaigns we did with the Lebanese Breast Cancer Foundation (LBCF), I could see that the topic of breast cancer was still not spoken about enough. And as a breast cancer survivor who underwent treatment and surgeries, I wanted to open people's eyes to a way in which they could avoid what I went through via an accessible tool they could use in the privacy of their homes.
The 'slogan' of the award-winning campaign is "Have you baked bread this month?". Why was bread making chosen as the theme?
Danielle: It was about using a language that everybody could relate to and a simple concept through which we could talk about breast cancer. Bread-making is universal, and analogies work because they are indirect. We were also highly connected to the purpose behind our message and the audience we were addressing, so it had to be believable, organic, and something every woman could replicate at home.
Tell us more about the bread recipe chosen for the campaign.
Danielle: There are many similarities between making good dough and checking your breasts, whether in shape or technique. So, we paired a prominent local baker, Um Ali, with two gynaecologists to teach each other how to bake bread and self-check, respectively, mirroring each other's steps to create the perfect bread recipe that could save a life. The pinching of the breast, which ultimately became step number eight, wasn't in the original recipe, but Um Ali loved the idea. It is something bakers do to check the dough's moisture level. The similarities and accuracy of the two techniques were fascinating. Mirna: The recipe calls for baking bread once a month. It also teaches women of all ages to self-check at home after their menstrual cycles every month. If you look at the recipe closely, you'll understand how eye-opening it is.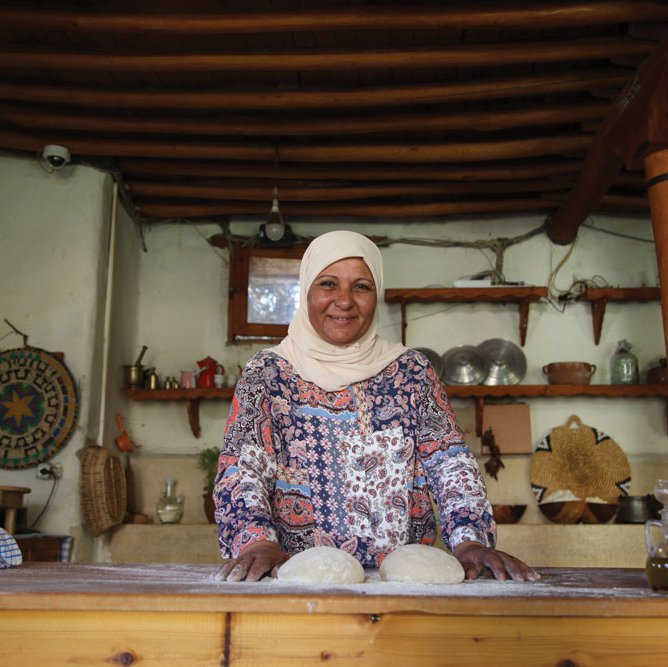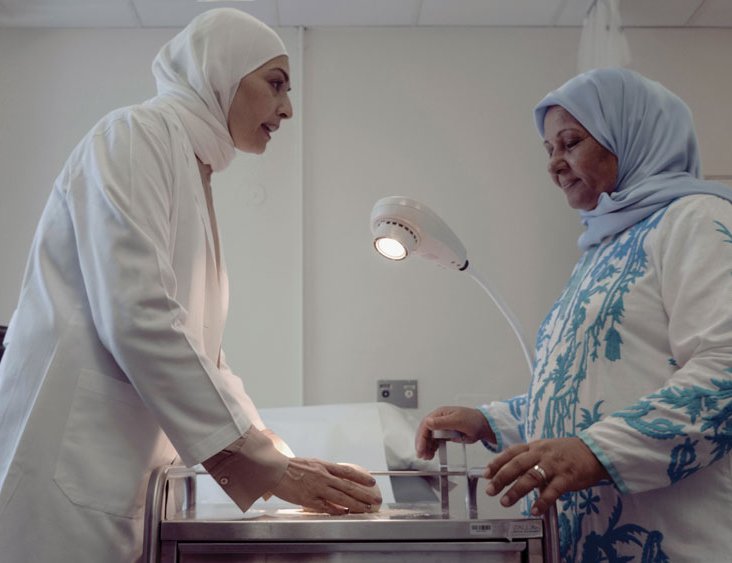 Um Ali (right) working with a gynaecologist to develop the bread recipe
Millions of people viewed the campaign, and media around the world praised and shared it. Why do you think it did as well as it did?
Danielle: Authenticity reaches people's minds and hearts. We didn't use actors. We chose a real baker whose fingers were one with the dough. As a result, countless women have not only understood the importance of self-checking, but quite literally felt it with their own hands while recreating it at home. Moreover, the simplicity of the message makes it so that it's easily interpreted and translated.
Mirna: The campaign launched when very few people had access to mammograms, so it helped many women monitor themselves at home. And because we presented the message through something as simple as dough, people became curious and more open to the idea. Through the campaign, it suddenly wasn't 'impolite' to talk about or check our breasts.
What can be done to continue to dispel the myths surrounding breast cancer?
Danielle: I praise the LBCF and brands like Spinneys Lebanon for using their voice and influence for the greater good. In a war, there are battles, and you must win one at a time. Often transmitted from generation to generation, taboos remain extremely hard to break, so we must keep the conversation going in any way we can.
Mirna: Our mission with LBCF is to keep giving people access to information, whether it's via our website, Instagram, or our year-round awareness campaigns, and to encourage them to self-check in the privacy of their own homes. Everything we do is free of charge. We are also working on a book targeting women diagnosed with breast cancer, covering everything they need to know.
What would you say to people who still refrain from talking about breast cancer?
Mirna: The Bread Exam way of checking yourself is simple and accessible. Give it a try once and see how easy it is. I urge everyone to self-check. There's no going back.